We are thrilled to welcome Ms Kerry Clements and her family to the Mangrove community! Here is a lovely article she wrote for Early Childhood parents about our first festival of the school year:
"The Autumn winds blow open the gates
Saint Michael for you we wait
We follow you, show us the way
With joy we greet this Autumn day
Good Morning, good morning"

Late September and early October in Southwest Florida is quite unlike the Autumn of Lancaster County Pennsylvania. As a native of Amish farm country I have become accustomed to the beautiful outward expression of Mother Earth as she prepares to take a deep in-breath and ready herself for the coming winter. The maple trees are the most dramatic of the deciduous, the leaves turning brilliant hues of gold, orange and red. Mist often settles on the hillsides each morning as the nights become increasingly
cooler. Visual elements of Fall are everywhere, the harvested and bundled corn stalks, baskets of apples and endless fields of pumpkins ready to be picked and carved or made into pumpkin pie. But here, in this sub-tropical region, the expression is different. No less magical or beautiful, but different.

The breathing of Mother Earth, in this equatorial region, is much more subtle and gentle. In October the humidity decreases and the temperature becomes much more comfortable. Being outdoors is enjoyable. As our northern neighbors begin to look inward, here in the south we are beginning to take an out-breath. When considering seasonal rhythms, there is an imbalance in the breath, the expression of summer, of light, of green and growth is the ruler in this kingdom. But if you look closely and atune one's self to the language of Mother Earth, you realize there are seasonal shifts to behold. While we are not picking apples or harvesting wheat on the Southwest coast of Florida, we see the changes in other ways. Soon the sweet starfruit will turn a golden yellow, the citrus fruits will show their first hints of ripening. The beautyberries are in their full expression of bright lavender. And to the delight of the squirrels, the oak trees will soon drop their acorns providing a bountiful feast for our bushy tailed friends.

But in this place of whispering changes, how does one mark the passage of time for our little ones? The practice of celebrating seasonal festivals is an honored tradition in human culture and Waldorf education. Their significance is deeply important to the inner life of humanity and the developing child. Young children do not yet have the ability to understand the concept of time and it's passage. The celebration of seasonal festivals supports the child's connection to the breathing of the earth and nature's cycles. One of the most noticeable shifts during the Autumn season begins to occur at the Autumn Equinox, when day and night are approximately the same length. This moment marks the beginning of our journey to the winter solstice, the longest night. The feast of St. Michael is celebrated during the season of the Autumn Equinox. Michaelmas was originally celebrated in Western Europe as a festival to give thanks for a bountiful harvest and to acknowledge the waning of the light and the approach of the longer nights. This imagery is represented in the tales of St. Michael defeating the dragon. St. Michael is an image of courage and strength, reminding all us that winter will pass and the light will return.

In our early childhood classroom this imagery is but only a seed. We cheerfully sing songs of St. Michael, hear stories of bravery and enjoy the fruits of the season. The children delight in dying their silk capes of golden light with natural materials. This year we used golden turmeric, the magic of firebush flowers and the rays of father sun to turn our capes a bright yellow color. Soon the children will each be reverently presented with
their golden capes.

"I give you this cape of golden light
May it give you courage, strength and might"

After which we will take a journey across campus in search of Mother Earth's basket of goodies (fruits of the season). For snack we will shape our bread loaves into dragon bread. The children love to create scales and other features with almonds and raisins. Our dragon breathes fiery strips of red, yellow and orange peppers (sweet peppers). A nibble of dragon fruit is also a fun surprise and keeps with the theme. The qualities of courage and inner light are an essential element of the early childhood experience. We adults may ponder the meaning of Michaelmas or the Autumnal
Equinox but it is best for the young child to experience the seasonal journey in images and activities that are meaningful without an explanation of the underlying thoughts and concepts. "In time, the children's experiences will ripen into an understanding that will be truly their own." (N. Foster)

I wish you all many blessings in this season of St. Michael and the Autumn Equinox! ~ Ms Kerry Clements, Early Childhood Teacher
In our Early Childhood, we use puppetry as our main storytelling tool. This can be finger puppets, marionettes, or small dolls moving about to give life to the story the teacher is telling. As children see in pictures, this draws the child in, allowing them to fully engage their imagination and creativity. Teachers choose stories that can supprt the child's inner development and the puppets moving about slowly and purposefully can have a healing and calming effect on the child, thus these are designed to nourish both their minds and hearts. This puppet play was created as a gift for young children in our community and beyond. We hope you enjoy it – happy spring!
In many schools, children learn by a rote method. While it is clear that there has to be some repetition of the material that children are to learn, repetition and practice can be a physical and full-body experience.
For example, the 2nd Grade is learning the multiplication tables. To learn something like the tables you would think there is only one way to do it. Most schools would repeat them orally, write them a lot and work with them in such a way that the children would be repeating them over and over. What if there was another way?
At our school, multiplication tables take on a new interest. We begin in 1st Grade by skip counting. 2,4,6, etc. for the 2 times table and 3,6,9,etc. for the 3 times table. This can be accomplished with bean bags and clapping games(1) Throwing the bean bag while reciting the products of the times tables helps a child integrate the knowledge not just in their minds but into their limbs. When it comes time to work with the multiplication tables in 2nd Grade they will have more complete knowledge of the material because they used their mind and their limbs integrating the material into their being.
In 2nd Grade, the children move on to the concept of multiplication always taking into consideration how to present it in the most integrated way for mind, body, and spirit. One method is to draw a circle and mark 10 points around the circle evenly (0-9). Based on the product, you draw lines from each point around. (For example, 2 is 2 x 1, 4 is 2 x 2, etc) Below is an example, can you guess which times table it represents? From this, we get a geometric form that the children can see; as we go through each table different forms appear as if by magic! This adds another dimension to learning the multiplication tables, and also lays a foundation for geometry later.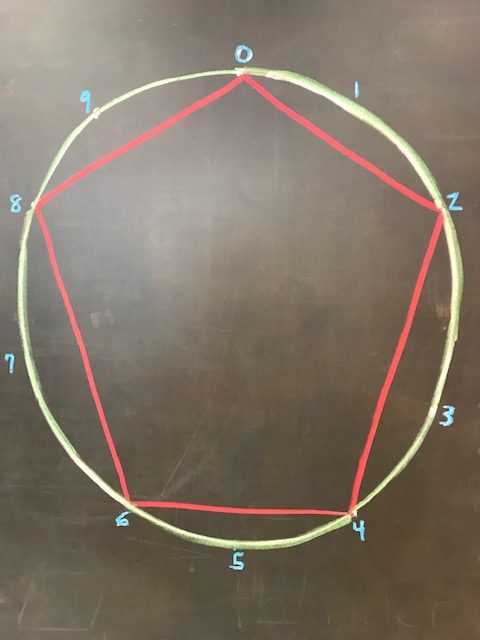 Multiplication tables are only one subject that can utilize a more physical method of learning. In first and second grade, where our main blocks are 4 processes of math and language arts, many aspects of these can also lend themselves to this. Addition and subtraction can be learned through games that involve number lines made of chalk outside. Each child can add and subtract numbers while standing on a number line and play with the qualities of numbers that are on the line. They can also create a hopscotch board using the answers to addition and subtraction problems and the children need to jump on the answer to the problem. Language arts and speech take a fun twist when combined with drama and acting out plays, cursive writing can be introduced first in clay, then written carefully in their books.
Learning can be a full-body experience that brings in every aspect of a person to learn the concept. By making this active and fun, we stimulate the child's will and foster a love of learning.
By Laura Barrett 1/2nd Grade Teacher
(1)Henning Anderson, Active Arithmetic, (Waldorf Publications, 2014), 95-101
By Ms Natalie
We begin our sessions with an appreciation of exploring our non-physical senses, our intuitive senses. This helps in meditation, guided exercises and reaching our higher selves.
We begin with sharing why our non-physical senses help us. We set out to find examples in the children's current lives of how they can use meditation and practice techniques of relaxation to get a higher awareness of themselves and their surroundings. For example, in the car with siblings that are annoying us, sleeping disturbances, nerves to perform, dreams that we do not understand, speaking in public or ceremonies, going to new places or crowded areas. Through these shared practices throughout the classes we see the benefits of guided meditation and the transference of physical senses to becoming aware of our non-physical senses and/or intuitive senses and what uses we have for them.
Through contributing and witnessing these practices throughout our sessions the children will use mantras, form pure intentions to create their visions and see evidence of these manifestations. We form these habits by repetition whether it be by grounding oneself in class and feeling the energy of the room and the shift of others or playing one of our minds eye games and sharing the otherworldly places they visit. We follow each class by starting with heart palms and setting an intention just for today and ending with an I Honor You statement for the class. This sort of daily ritual is a well known custom of importance in our daily lives promoting harmony and balance.
It is a joy and a blessing to see the children explore these practices and share in our meeting time how they use these practices in their daily lives and I am honored to share this with them.
~Techniques to use at home in continuing daily beneficial practices~
1. Take a moment ~Breathing~ count to 5 or 10 (adults and children)
2. Allow them A space they can feel good in by themselves (quiet play)
3. Sending colors and surrounding them (dress them according to color vibration)
Pink deflecting negativity
Blue calming
Purple cleansing, strength
Yellow learning and new place new people
Golden pyramid sealing in and protection
4. Using crystals they can wear on pouch or hold (let them choose)
5. Calming music (children's Beethoven station)
6. Earthing (bare feet in the grass) after school snack in the grass (the Earth naturally pulls the positive ions from us and replaces the negative ions to rebalance our systems from negative EMFs and other negative waves and energy we come in contact with throughout the day)
7. Scents use diffusers and aromas that are soft and gentle
Lavender, orange, Doterra balance, peace and calm scents
You can also scent with oils a necklace they wear and infuse it with an intention.
Peppermint or eucalyptus for mornings or awake times.
8. Humming natural vibration that harmonizes and clears the energy throughout our energy bodies. OAMS
9. Talisman to have with them at desk or school or when needed. (Can be a rock from a special place they visited or grandparents home, etc that is infused with a special memory)
10. TRUST trust your child in that they hold all the ancient ways to heal themselves and TRUST when they are tired or uncomfortable and LISTEN to them. (My favorite time for this is at the end of the day right before sleep I sit or lay in bed quietly with them and allow them to speak openly without asking questions or interrupting them.) It is amazing what I learn. This is a special time they can open to you without judgement or distraction just their own truth.
Blessings, Ms Natalie
Ready To Enroll? Here's How To Apply...
Apply Now